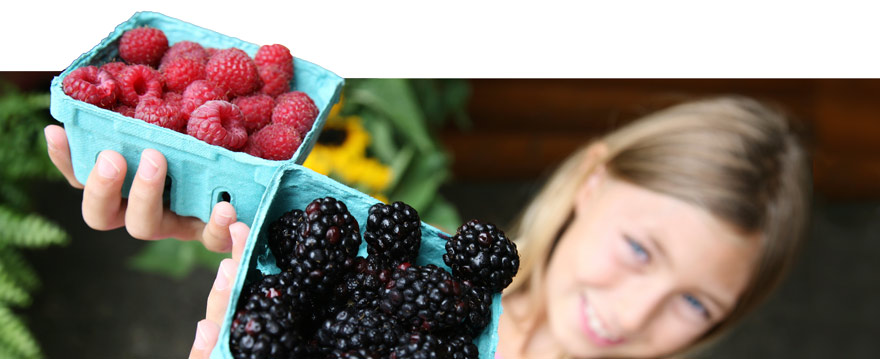 Farmers Markets
Get to know the farmers, bakers, and artisans of Carroll County at our local farmers markets. Leave with the freshest, highest quality foods while buying local.
Hampstead Farmers Market
8:30 a.m. to Noon
Saturdays, June 3 through September 30
443-821-1339
1341 N. Main Street,
Hampstead, MD 20174
(on the carnival grounds of the Hampstead Volunteer Fire Department)
www.hampsteadfarmersmarket.com
Carroll Hospital Farmers Market
12:30 pm to 4:30 pm
Thursdays,  June 15  through late September
410-871-6472
Carroll Hospital Center
200 Memorial Avenue
Westminster, MD 21157

(inside parking garage, level 3)
mgonzalez@carrollhospitalcenter.org
Downtown Westminster Farmers Market
8:00 am to noon
Saturdays, May  20 through November 18

410-456-0397
Conaway Lot
At Route 27 and Railroad Avenue
Mt. Airy Main Street Farmers Market
3:00 pm to 7:00 pm
Wednesdays, May 17 through September 27
(See website for exact dates)
240-449-6435
MtAiryMainStreetFarmersMarket@gmail.com
Municipal Lot (Corner of Park Ave. & Cross St.)
Carroll County Farmers Market
June 10 -September 2: 8 a.m. to 1 p.m.
October 7: 8 a.m. to 1 p.m.
November 4 – December 26: 8 a.m. to 2 p.m.
(Visit website for exact dates)
410-848-7748
700 Agricultural Drive
Westminster, MD 21157
Sykesville Farmers Market
9:00 am through 1:00 pm
Sundays, May 14 – October 29
410-795-8959
Parking lot at the corner of Sandosky Road and Town House Drive (Behind E.W. Becks)
Taneytown Farmers Market
9:00 am to noon
Saturdays, May through September

(see website for exact dates)
240-818-9712
Located behind the Taneytown Police Department (120 E. Baltimore Street)