If you've driven around Carroll County no doubt you've seen some horses grazing. But did you have any idea how important or vast the horse industry in Carroll County is? Here are four fast facts brought to us by the Maryland Horse Council:
There are 6050 horses in Carroll (second only behind the number of cattle)
There are 1700 stables in Carroll County
41,500 acres are in equine use (that's 30% of the farmland in Carroll)
And total capital expenditures reach $13.3 million dollars.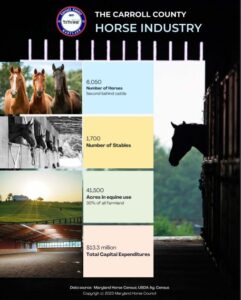 Stay tuned for more facts as the most recent census info in tabulated.